Make Cooking more Enjoyable
Make Your Meals with The Pro Series Smart Pans
New Pro Series smart pans with removable ergonomic handles make cooking quick and easy.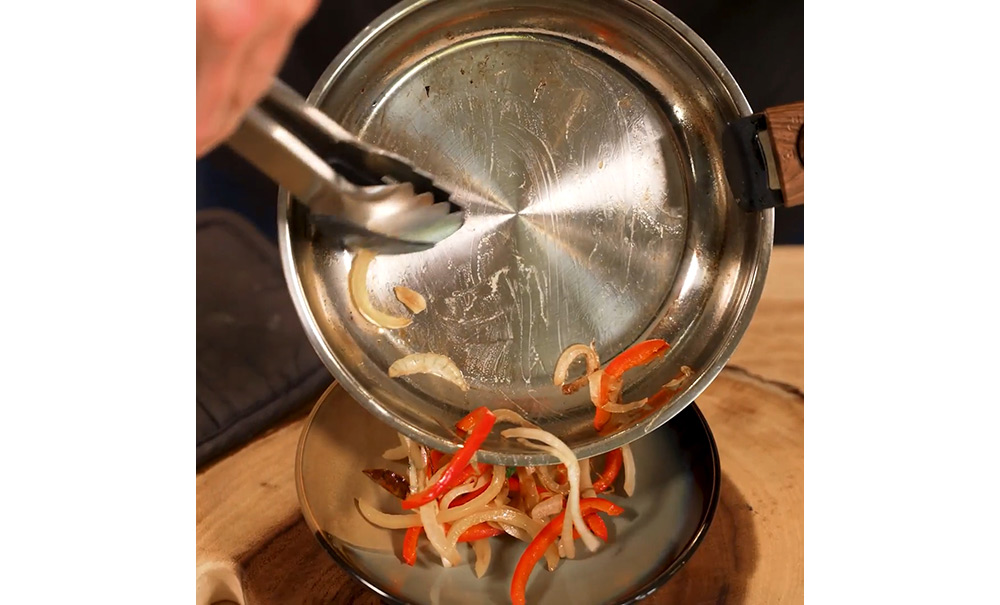 Cooking Success Begins with Pro Series Smart Pans
The new revolutionary Pro Series Smart Pans by Ergo Chef are packed with features that make cooking and storage a pleasure.  The 3 pc Cookware set combines stainless steel and Ceramic Type Non-stick coated PFOA free pans for healthy cooking.  8″ and 11″ stainless steel mirror polished pans, and 9.5″ Ceramic type non-stick PFOA free for healthy cooking.  Includes two soft-touch ergonomic handles making it a breeze to attach and remove when using the pans on the stovetop and going into the oven.  The pans engineered 5-layer clad bottom can be used on any cooking surface and ensures quick even heating for perfect cooking at low to medium heat.  The specially designed rim of pans prevents dripping when pouring sauces from the pans for no mess. Includes one glass lid with silicone rim for stove top cooking with large 11″ and medium 9.5″ pans. Enjoy healthier toxin-free cooking with these food-safe FDA-approved PFOA-free materials. The Non-stick pan is from the world leader in coating PPG and is a ceramic type coating for 10x longer life than other pans and easy cleanup.  These are even oven and dishwasher Safe pans.
Why Pro Series Smart Pans
Space Saving Stackable Design
Ergonomic Removable handles
Fast Heating Flat Clad Bottom
Includes:

 

3 pans, 2 handles, one glass lid with silicone rim, and 2 felt liners for use during storage to prevent scratching the pans.
Construction:

 

304 Stainless steel with 5-layer clad bottom for fast even heating and cooking with low to medium heat source. No need for high heat. Saves energy!
Pans:

 

8″ and 11″ stainless steel mirror polish finish, 9.5″ pan is stainless steel with Ceramic Type non-stick coating last 10x longer than PTFE pans. We use PPG (Whitford) the world leader in food-safe non-stick coatings. No chemical leaching for healthier cooking. FDA approved.
Handles:  2 ergonomic soft-touch handles with easy one-button operation.
Engineered Drip Proof:

 

The easy pour rim on the pans is drip-proof for less mess. Making it easy to pour sauce and liquid out of your pans while plating.
Nesting pans: 

 

50% less storage space is needed as pans nest (sit) inside each other including the handles and lid.
All pans inside the large pan with handles inside and lid on =  11-7/8″ Dia. x 3-7/8″ Tall.
Pan Sizes / Weights: 

 

8″ Pan inside rim – 2″ tall sides – 6-1/4″ Dia. clad bottom – 1.1 lb.    /  9.5″ Pan inside rim – 2.125″ tall sides – 7.5″ Dia. clad bottom – 1.6 lbs.  / 11″ Pan inside rim – 2-3/8″ tall sides – 9-1/4″ Dia. clad bottom – 2.2 lbs.
4 Eagle Rd.
Danbury, CT 06810
Copyright © 2023 Divi. All Rights Reserved.